September 10, 2012 update
We have an important announcement to make about Save Helvetia and the reserves process. We urge you to take time to read it, along with Jason Miner's companion article referenced below.

Last month, after a year's delay, LCDC finally issued its written order approving Metro's urban and rural reserves plan designating over 28,000 acres of urban reserves for the region. As you are aware, our goal over the past three years has been to protect Helvetia's farmland as rural reserves. As a result of our testimonies at over 50 hearings, we were able to greatly reduce the amount of urban reserves in the Helvetia area. However, almost 700 acres of high-value farmland at the gateway to Helvetia are still designated for future industrial development: 440 acres was designated as urban reserves and 233 acres was left undesignated (which is basically backup urban reserves).
Those of you who have been following this issue know we oppose this unnecessary urbanization of high value farmland. Those who are new to the topic, or want to learn more, can read our past testimony at www.SaveHelvetia.org, "Making our Case."
Over the last couple of months, we participated in efforts to reach an agreement that would have kept us out of court. While we would have liked to see that happen, key Washington County Commissioners were not interested in negotiating.
As a result, Save Helvetia has decided to challenge Metro's and Washington County's plan to urbanize the best agricultural land in Helvetia (and indeed, the state and the world). On September 5 we filed a notice of appeal, as did eight other groups or individuals from the tri-county area who are challenging various aspects of the plan. If you testified orally over the past few years, you probably received a huge pile of notices in the mail. Briefs are due on September 25. After that, Metro and LCDC will have an opportunity to rebut the briefs and there will be oral arguments by the attorneys. We are unable to discuss the legal basis for our appeal until after briefs are filed, so we'll let you know more details then.
Jason Miner, Executive Director of 1000 Friends of Oregon, has written an eloquent, well-reasoned, and evocative piece about why we fight so hard to protect farmland. That article is here: http://www.friends.org/about/profiles/urban-reserves-letter
How can you help?
While most of our efforts to date have been done by volunteers, we are now at the phase where our attorneys have to prepare the brief and present the oral arguments. Carrie Richter and Ed Sullivan of Garvey Schubert Barer have been with us from the beginning and their expertise has been invaluable. We will need to raise about $20,000 for the appeal. Donating or helping us raise this money is the best way for you to help at this time.
Donate, please!
You can donate to Save Helvetia by going to: www.SaveHelvetia.org. Tax-deductible donations can be directed to Helvetia Community Association at www.HelvetiaCommunity.org. We welcome home-made fundraisers; contact us if you'd like to plan one!
| | | |
| --- | --- | --- |
| to Save Helvetia | | to Helvetia Community Association |
Attend the Helvetia Culture Fest!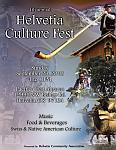 And, by all means, please come to the Helvetia Culture Fest on September 23rd! Helvetia's annual festival brings local food and beverages, Swiss and Native American culture, music, and FUN for everyone! It's a great way to show your appreciation for Helvetia and support us at the same time! A portion of the proceeds from our celebration of Helvetia's cultural traditions will be dedicated for appeal expenses, so why not spend an afternoon in beautiful Helvetia? You may purchase admission and meal tickets and learn more at www.HelvetiaCultureFest.org. If you can't attend, please visit www.HelvetiaCommunity.org and donate. Your contributions will help us defend Helvetia's treasured farmland.

Thank you for your unwavering commitment and support,

The Save Helvetia Steering Committee
Save Helvetia is a 501(c)(4) non-profit organization whose mission is to advance policies, leaders and actions that protect Helvetia's treasured resources.

The Helvetia Community Association Board
Helvetia Community Association is a 501(c)(3) non-profit organization whose mission is to inspire understanding and enjoyment of Helvetia's people, land, and history.